Extraordinary villa on river and sea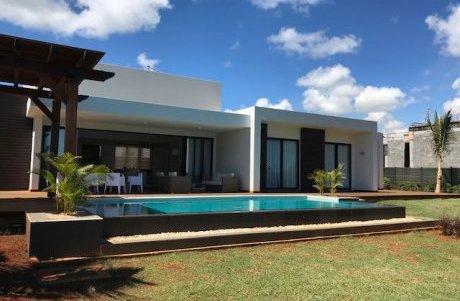 ---
---
Riviere du Rempart, Mauritius
€2,850,000
---
---
Magnificent five bedroom villas in a large tropical garden.
Stepping outside into the delightful open veranda/poolside area one would never imagine what lies beyond!
Distinguishing itself thanks to it's sloping embankment at the edge of the garden which lands one right on the rivers edge opening up into the magnificent Turquoise Lagoon with the deep blue ocean beyond. This can only be a dream come true for Sun/Sea lovers!!!
The spacious modern lounge/dining/kitchen area is enough impress anyone who walks through the entrance door.This villa is all about fine living off the shores of nature. Conceived as a private gated environment for the residents' peace of mind. Located on the spectacular elevation of Azuri, this appealing newly built villa is for homeowners seeking for a property beyond ordinary.

Property Features Include: Gated Entry, ample private parking, VILLAGE LIFESTYLE: 3 to 4 bedroom apartments, penthouses, duplex villas brought together around a 5 star Hotel & Spa, a yacht club with marine facilities and outdoor activities, shops, restaurants and a golf membership, set in a safe environment, beautiful landscaped gardens and providing access to all the amenities

Interior Features Include: Extending over 170 hectares, this waterfront village offers exceptional living with luxury residences integrated harmoniously in urban spaces and a beautiful waterfront

Views Include: Hills, Water, Marina

Amenities Include: health club, golf club, bike trails, walking trails, large private pool, spa, close to beach

Lot Dimensions: 1932 m²
Web id: VFDE
MLS#: PRIRSSEAZ-SE326
Bedrooms: 5
Bathrooms: 5